A Workbench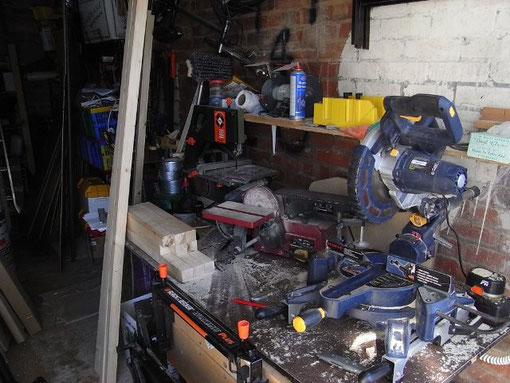 Above is a picture of the main workbench and tools we used. There are several other pictures of this but the one above was with most things in view. Many tools were bought for the main build, and then sold afterwards, if only to get space in the garage back. Most of the hand tools we already had. The items we used were:-
210mm Chop saw - used for all cutting of lengthsof timber. A 250mm would have been better for some cuts, but it did the job. It was also equipped with a saw bench which allowed it to be used outdoors with really long pieces. We cut up 4.2m floor boards with it easily.
Band saw - this was a small bandsaw which was great for small pieces of wood and quick shaping. Used all the time.
Belt and disc sander - used for getting the length of wood just right, cut to approximate length and then sand down to the exact length. Very quick way of tidying up the work of the chop or band saw.
Standard B&D workmate - just the one, but a couple would have helped.
210mm Circular bench saw - used for ripping the big sheets of ply, floor boards, and a variety of other timber to the right size, and in the case of the cupboards, correct angle. 
Drills - I used three

Cordless drill from Argos, cheap, but most useful tool of all, two batteries were absolutely essential, used mostly as a screwdriver. 
Larger Black & Decker 850W electric drill, this did the heavier metal drilling and hole cutting on the van.
Pillar drill - a bit of a non-descript item, but great for making precise holes in the various components, wood, plastic or metal, especially with a low (30rpm) setting. 

Circular saw - a 1500w model for cutting some of the panels
Power plane - again 1500W, smartening some of the rougher wood but also essential for fitting where the wood was just a bit tight and oversize
Electric jigsaw, with wood, laminate and metal blades
Various sizes of hole saw, suitable for cutting steel, we bought a set plus one odd size. 
Angle grinder - just a small one for slicing the odd bit of metal up/off 
Most of the inside was constructed out of one sort of wood or another, so wood working tools were greatly in evidence, but these were just the basic hand tools that were needed all the time.
Small and large cross head screwdrivers, for tightening screws that the electric drill was to strong for.
Small and large slot screwdrivers.
A set of Torx bits and security screw bits, the van was full of them, up to T45
A set of chisels
A box plane
A wooden mallet
A rubber headed mallet
Small hammer, also had a large claw hammer but not much use in the end
A sharp point/pricker
Set of metric spanners
Set of box spanners
Tape measures, we had three and always lost two
1 metre steel rule, but a 300mm one would have helped
Several setsquares, small and large
Pliers, wire cutters, wire strippers bought as a set for the electrics
Soldering iron with stand and solder
Electric multimeter, for measuring voltages and continuity 
Wire crimping tool, bought a ratchet model
Set of taps and dies, bought late after botching several holes
Hack saw with spare blades
Large crosscut wood saw, super sharp edge, teflon coated, invaluable
Mitre saw
Coping saw with spare blades 
Saw horses
Metal vice but only used a bit with small items
Sharp pencils, large and small alcohol based marker pens
Vernier guage - measuring holes, bolts, small gaps etc
Retractable 'Stanley' knives, several, with different blades for all sorts of uses.
Pipe cutter for copper pipe
Pipe bender for gas pipe
Paint brushes 
Clamps - We used loads of these, a few screw clamps, but mainly the cheap trigger sort
String - not really a tool but useful for holding odd things together and for pulling wires and pipes through gaps.
Duct Tape - again, not really a tool, but used everywhere for holding things in place while working.
Magnetic screw retrival thing, telescopic, came in a set of screw drivers
Mitre block
Wood rasps and metal files, various shapes and sizes
Kitchen towel, rags and dust covers
Various sweeping brushes! 
A vacuum cleaner!
Toolbox!!!!
What we didn't use. Odd thing to say but lots of people we've talked to found these useful.
Router - Used to own one but it was so little used we sold it. Several times we contemplated buying another but the way we built didn't need it, but still may buy one to do some finishing off.
Welding kit - the van is made of metal as are many of the fittings, and welding brackets etc can be really useful, but again we worked around that.
Sheet metal bender, could have been useful but got someone else to do that bit of work for us.
Plastic pipe cutter - felt like an extravagance, but we can see it could be useful