Lemmie - Our DIY Motorhome
We started building our motorhome around a LWB Sprinter in January 2010 and took pictures and wrote a daily diary about what we did. This is an upload of that information incase anyone else wants to have a go themselves and would like to see what is involved.
The picture at the top was taken on our first trip out to St Ives on the 22nd April 2010.
As a first piece of advice, join a self build forum such as the SBMCC, and get to know what others have been up to. I'll post links I've found in the appropriate page.
Having camped then caravanned for years, we decided that we wanted to have a motorhome to make traveling around a bit easier. Camping is great, we still have a tent, but we wanted home comforts. The caravan had worked out really well too, but dragging it around each time we went away became a bit of a chore. One thing we did want was to just turn up somewhere and have arrived, not needing to put the tent up, not needing to unhitch, and as ever, not needing a set space to stay in. So we ended up with our motorhome, Lemmie.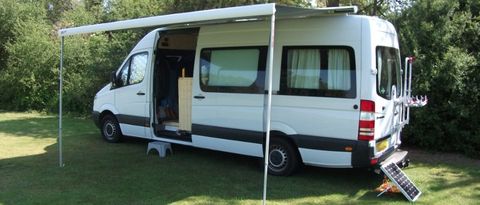 Lemmie started out life as a 2007 Mercedes Sprinter 311i LWB that worked as a delivery van for 130,000 miles before being found. We looked at buying a motorhome ready built, but nothing really suited, and if it got close, we didn't want to spend the money, so we decided to do our own, and convert a van. This website is about us doing that, what we did, what we might have done, and what we will be doing in the future.
Lemmie
We are both musicians, and Lemmie refers to two of our favourite musicians.
One is Lemmie Brazil, a gypsy melodeon player, and the other is the late Lemmy Kilmister, bass player and lead singer for Motorhead.
Recent history -Feb 2011
Having uploaded loads of pictures, we come to some original work...so a bit of a go slow. Added basics for the plans and tools
Oct 2011
We've had a good spring and summer or use, Lemmie has turned 140,000 miles while in Germany, and a few bugs have come and gone, including quite a bit of rewiring. Been round the sections to do some updates.
Oct 2012
Whoa, it's suddenly a year on and I haven't actually added much to the site, but have to Lemmie. The electrics were updated, new solar panel, we needed new batteries and the bed was partly rebuilt to be more flexible and easier to setup. Also some roof bars for a Kayak! Busy? well a bit.
May 2013
Lemmie is still doing ok and has a few things sorted, such as a heating duct fix, an actual lock on the kitchen drawer (exciting eh?) and repairs to bits that have failed over time. Another year of touching up rust as well, on what appears to be very thin paintwork. There's also a lot more ventilation for both the inside of the van and the fridge, just need a hot summer to test it all out! The website was running a bit behind so time for a revamp, in several different ways.
October 2013
After the updates of the summer, I've now got a long repair/update list. Good things are that the new ventilation for the fridge works very well, and it's much quieter. The other ventilation measures don't really work so they are coming out.
Mostly what needs doing are tweaks based on experience of living in a van for a month and a few things left over from last year, but that list got lost!
Theres also an update to the web site coming, mainly because I want to write about other things I do, so this is going to be a project in itself. I'll keep everything available, but it may not be in the right order!
May 2016
Lots of things happening, so now I'll be updating the site regularly to add it all. If some bits don't read very well the that's probably because they are being updated and aren't finished!